Hello everyone!
So the majority of us know that during the initial set up of the Disney Studios, a lot of Walt Disney's film-making was inspired by the stories and the morals of fairy tales. We only need to look at Snow White and the Seven Dwarfs to understand the significance of these tales to Disney and in turn, they are important to us as viewers and fans.
However, they are also increasingly influential for me personally as a reader and lover of books. Particularly within the last couple of years, I have noticed a resurgence in the number of books based on fairy tales, myths and legends that have already been adapted by Disney, a lot of them falling within the Young Adult and New Adult categories – possibly relating to the rise in popularity in tv shows like Grimm, ONCE etc. Quite a few of these books are influencing my reading tastes at the moment, and it is giving me a greater appreciation of these stories as well as me wanting to go back and read those original texts.
In mentioning Snow White, this is where I plan to begin. It is not where my love for retellings started but as the first of the tales to be adapted as a full length feature film, it is a good starting point. In terms of these books, I have only read two of them, so as well as me recommending books to any of the Disney/Book lovers reading this, it is opening my eyes to the extensiveness of this niche – not to mention giving me more books to add to my ever growing to-be-read list.
---

Ten Books based on Snow White:
(The pictures will take you to their pages on Goodreads)
Poison is a beautifully illustrated retelling of the Snow White story which takes all the elements of the classic fairy tale that we love (the handsome prince, the jealous queen, the beautiful girl and, of course, the poisoning) and puts a modern spin on the characters, their motives and their desires. It's fun, contemporary, sexy, and perfect for fans of Once Upon a Time, Grimm, Snow White and the Huntsman and more
Princess Snow is missing.
Her home planet is filled with violence and corruption at the hands of King Matthias and his wife as they attempt to punish her captors. The king will stop at nothing to get his beloved daughter back—but that's assuming she wants to return at all.
Essie has grown used to being cold. Temperatures on the planet Thanda are always sub-zero, and she fills her days with coding and repairs for the seven loyal drones that run the local mines.
When a mysterious young man named Dane crash-lands near her home, Essie agrees to help the pilot repair his ship. But soon she realizes that Dane's arrival was far from accidental, and she's pulled into the heart of a war she's risked everything to avoid. With the galaxy's future—and her own—in jeopardy, Essie must choose who to trust in a fiery fight for survival.
Mirror, mirror on the wall,
Who is the fairest of them all?
Fans of the Lunar Chronicles know Queen Levana as a ruler who uses her "glamour" to gain power. But long before she crossed paths with Cinder, Scarlet, and Cress, Levana lived a very different story – a story that has never been told . . . until now.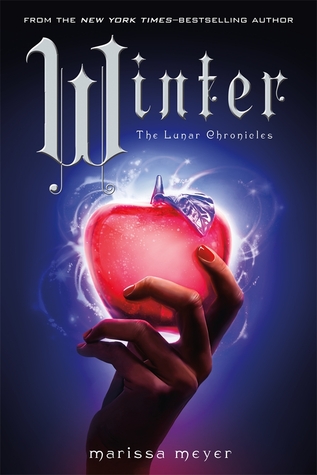 Princess Winter is admired by the Lunar people for her grace and kindness, and despite the scars that mark her face, her beauty is said to be even more breathtaking than that of her stepmother, Queen Levana.
Winter despises her stepmother, and knows Levana won't approve of her feelings for her childhood friend–the handsome palace guard, Jacin. But Winter isn't as weak as Levana believes her to be and she's been undermining her stepmother's wishes for years. Together with the cyborg mechanic, Cinder, and her allies, Winter might even have the power to launch a revolution and win a war that's been raging for far too long.
Can Cinder, Scarlet, Cress, and Winter defeat Levana and find their happily ever afters?
First kisses sometimes wake slumbering princesses, undo spells, and spark happily ever afters.
Mine broke Bale.
Seventeen-year-old Snow has spent her life locked in Whittaker Psychiatric—but she isn't crazy. And that's not the worst of it. Her very first kiss proves anything but innocent…when Bale, her only love, turns violent.
Despite Snow knowing that Bale would never truly hurt her, he is taken away—dashing her last hope for any sort of future in the mental ward she calls home. With nowhere else to turn, Snow finds herself drawn to a strange new orderly who whispers secrets in the night about a mysterious past and a kingdom that's hers for the taking—if only she can find her way past the iron gates to the Tree that has been haunting her dreams.
Beyond the Tree lies Algid, a land far away from the real world, frozen by a ruthless king. And there too await the River Witch, a village boy named Kai, the charming thief Jagger, and a prophecy that Snow will save them all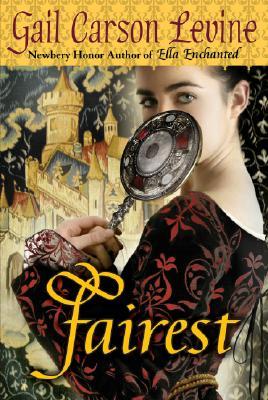 In the kingdom of Ayortha, who is the fairest of them all? Certainly not Aza. She is thoroughly convinced that she is ugly. What she may lack in looks, though, she makes up for with a kind heart, and with something no one else has-a magical voice. Her vocal talents captivate all who hear them, and in Ontio Castle they attract the attention of a handsome prince – and a dangerous new queen. In this masterful novel filled with humour, adventure, romance, and song, Newbery Honor author Gail Carson Levine invites you to join Aza as she discovers how exquisite she truly is.

The world was called Montefiore, as far as she knew, and from her aerie on every side all the world descended.
The year is 1502, and seven-year-old Bianca de Nevada lives perched high above the rolling hills and valleys of Tuscany and Umbria at Montefiore, the farm of her beloved father, Don Vicente. There she spends her days cosseted by Primavera Vecchia, the earthy cook, and Fra Ludovico, a priest who tends to their souls between bites of ham and sips of wine.
But one day a noble entourage makes its way up the winding slopes to the farm – and the world comes to Montefiore. In the presence of Cesare Borgia and his sister, the lovely and vain Lucrezia – decadent children of a wicked pope – no one can claim innocence for very long. When Borgia sends Don Vicente on a years-long quest to reclaim a relic of the original Tree of Knowledge, he leaves Bianca under the care – so to speak – of Lucrezia. She plots a dire fate for the young girl in the woods below the farm, but in the dark forest there can be found salvation as well …
The eye is always caught by light, but shadows have more to say

Lorelai Diederich, crown princess and fugitive at large, has one mission: kill the wicked queen who took both the Ravenspire throne and the life of her father. To do that, Lorelai needs to use the one weapon she and Queen Irina have in common—magic. She'll have to be stronger, faster, and more powerful than Irina, the most dangerous sorceress Ravenspire has ever seen.

In the neighboring kingdom of Eldr, when Prince Kol's father and older brother are killed by an invading army of magic-wielding ogres, the second-born prince is suddenly given the responsibility of saving his kingdom. To do that, Kol needs magic—and the only way to get it is to make a deal with the queen of Ravenspire, promise to become her personal huntsman…and bring her Lorelai's heart.
But Lorelai is nothing like Kol expected—beautiful, fierce, and unstoppable—and despite dark magic, Lorelai is drawn in by the passionate and troubled king. Fighting to stay one step ahead of the dragon huntsman—who she likes far more than she should—Lorelai does everything in her power to ruin the wicked queen. But Irina isn't going down without a fight, and her final move may cost the princess the one thing she still has left to lose.
A daring rescue.
A difficult choice.
Sophie desperately wants to get away from her stepmother's jealousy, and believes escape is her only chance to be happy. Then a young man named Gabe arrives from Hagenheim Castle, claiming she is betrothed to his older brother, and everything twists upside down. This could be Sophie's one chance at freedom—but can she trust another person to keep her safe?
Gabe defied his parents Rose and Wilhelm by going to find Sophie, and now he believes they had a right to worry: the girl's inner and outer beauty has enchanted him. Though romance is impossible—she is his brother's future wife, and Gabe himself is betrothed to someone else—he promises himself he will see the mission through, no matter what.
When the pair flee to the Cottage of the Seven, they find help—but also find their feelings for each other have grown. Now both must not only protect each other from the dangers around them—they must also protect their hearts.
BOY Novak turns twenty and decides to try for a brand-new life. Flax Hill, Massachusetts, isn't exactly a welcoming town, but it does have the virtue of being the last stop on the bus route she took from New York. Flax Hill is also the hometown of Arturo Whitman – craftsman, widower, and father of Snow.
SNOW is mild-mannered, radiant and deeply cherished – exactly the sort of little girl Boy never was, and Boy is utterly beguiled by her. If Snow displays a certain inscrutability at times, that's simply a characteristic she shares with her father, harmless until Boy gives birth to Snow's sister, Bird. When BIRD is born Boy is forced to re-evaluate the image Arturo's family have presented to her, and Boy, Snow and Bird are broken apart.
---
That's it for Snow White!
Running chronologically through the animated films, the next fairy tale will be Cinderella.
---
Do you know of any other Snow White retellings?
---
Thanks for reading and have a brazzle dazzle day!
xx